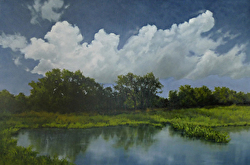 Buoyancy, oil on canvas, 36x60
A canoe may have been her vehicle, but it's the artist's brush that transports you to the beauty of the riverbank in Gallery 133's new collection of large paintings.
Grand enough to fill any art lovers heart with joy, the work promises to turn the heads of visitors to the gallery. Located in Toronto's Castlefield Design District, where art collectors and designers alike go to find must-have treasures, the gallery boasts a friendly and well-informed staff.
The collection: Views from my Canoe, created by artist Laura den Hertog captures the essence of peaceful days spent on the water, exploring otherwise inaccessible areas. Done in oils, den Hertog's masterful use of subtle pigments and watercolor-like translucency adds to the work's atmosphere of tranquility. Dividing her time between the outdoors and the studio, the artist translates the grandeur of the Canadian landscape onto canvas.
Spring 2013 heralds the arrival den Hertog's work to Gallery 133, but there's plenty of time for Toronto's art collectors to view the paintings in this on going display.

Gallery 133
1260 Castlefield Avenue, Toronto ON M6B 1G3 416.504.6099
Email: info@gallery133.com
Website: www.gallery133.com
Hours: Monday to Friday 9:30 – 5:30, Saturday 10:00 – 5:00, Sunday 12:00 – 5:00
Comment on or Share this Article →