Resources for artists, Telling stories about art, New paintings.
« Life as a Soap Bubble | Main | Twisted Cheese and Fresh Bread accepted into Laumeister Fine Art Competition »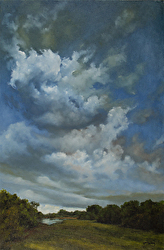 Dancing to the Tune of the Universe, 36x24
Dancing to the Tune of the Universe
During a recent conversation with fellow artists I confessed to dancing alone in my studio before and during painting. It seems I am not alone in this practice...there's a picture for you! Artists all over the world cranking up the volume and rocking out while painting. Puts a whole new spin on the idea of artists putting their hearts into the work. Cardio-art...it's the latest thing doncha know.
Ariane Goodwin (more on her below) commented that it may be a primal urge, this moving the body while creating. She noted that everything in the universe is actually in constant motion. Stillness is an illusion.
So today while working on a large cloud painting, which is essentially an attempt to capture something that constantly changes, I was musing about this constant motion idea and realized that although I was moving my body to the music and moving the paint onto the canvas, I was creating something that would be inert...or was I? At a molecular level, my painting is also vibrating, doing it's own little dance, just like the vapourous models I used and everything else in the universe.
The whole day felt very organic and I felt more connected than ever to the flow. Today the muse was a dancing fool with a lesson to teach about inspiration, movement and connectedness. All this because of one great conversation in the Blue Stocking Art Salon.
---


If you are a woman artist (sorry guys) and you'd like to join in a conversation with like minded others, I invite you to check out The Blue Stocking Art Salon. The salon is a bi-weekly discussion about art, artists, and how we handle the challenges and qualities this focus gives to our lives.
It's hosted by artist Lori Wolfson and Ariane Goodwin the creator of the smArtist career blog, host of the smArtist telesummit (professional development conference for visual artists), writer of books and artist coach.

May the muse push you into action.
Cheers
Laura
(PS: the painting "Dancing to the Tune of the Universe" will be available through The Bucks County Gallery of Fine Art, in New Hope PA, USA)
---
This post is also available in newsletter form, if you'd like to subscribe just click here:
Laura's newsletter
You can also get notifications for my blog/newsletter on Facebook. The link is to the left.
---
---
Comments